CHIROPRACTIC SERVICES
West Georgia Spine Center
A POWERFUL ALLY
West Georgia Spine Center, Comprehensive Chiropractic Care
West Georgia Spine Center provides comprehensive chiropractic care for its patients to help them get relief from pain and injuries. Whether you are faced with extreme neck pain, back pain or spinal issues, we can help.
We are equipped with advanced equipment to meet your chiropractic needs.
We offer a free initial consultation.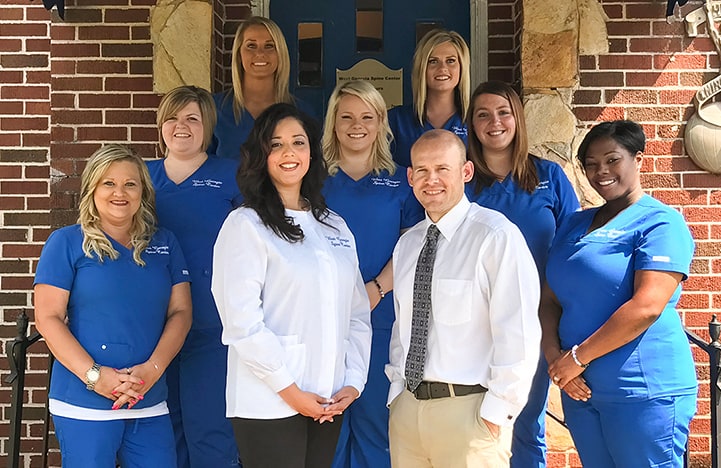 Get In Touch
Our staff is friendly and professional and will assist you with your concerns. We accept most major insurance plans and Medicare and have affordable cash plans. If you are suffering from pain, let us give you the relief you need. Call for an appointment.
AUTO ACCIDENTS
HEADACHE
SCIATICA
NECK PAIN
BACK PAIN
WHIPLASH
MUSCLE SPASMS
NUMBNESS / TINGLING
GENTLE SPINAL ADJUSTMENTS
PHYSIOTHERAPY
REHABILITATION
PEDIATRIC AND GERIATRIC CARE
TRIGGER POINT INJECTIONS
ACUPUNCTURE
MASSAGE THERAPY
Get a wellness plan that does more than just cover up the symptoms of the pain and discomfort. Let us show you how we can help.

West Georgia Spine Center is equipped with the most up-to-date equipment to provide you with higher standards of care.

TPI
Trigger point injections are a simple procedure used to treat painful areas of muscles.

Massage
Getting a massage can do you a world of good. Getting it frequently can do even more.

Acupuncture
Acupuncture improves the body's functions and promotes the natural self-healing process.
As well as Chiropractic Care, we offer Massage Therapy, Acupuncture and Trigger Point Injections
There's no denying the power of bodywork.
Regardless of the adjectives we assign to it (pampering, rejuvenating, therapeutic) or the reasons we seek it out (a luxurious treat, stress relief, pain management), massage therapy can be a powerful ally in your healthcare regimen.
Call 770-834-6669 for a free initial consultation.
The pain stops here. Let our family take care of yours.