A POWERFUL ALLY
Dr. Lisa Mielcarski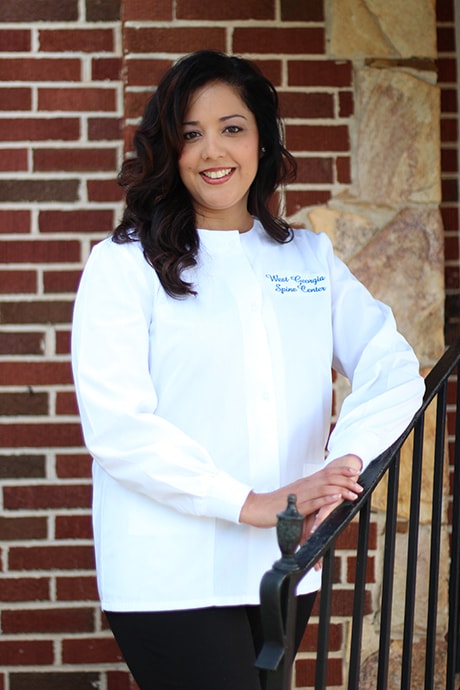 In becoming an intimate part of my new home, Carrollton, and learning my patients' and neighbors' needs, dreams, hopes and fears, I felt it only fair that I share the same with all of you.
I grew up in Winnipeg, Manitoba, four hours north of North Dakota, with my very loving family, mom, dad and my sister. My most treasured times were spending almost every weekend with a huge number of aunts, uncles and cousins. We would partake in the most delicious home cooking, play games and chat. In other words, just being a part of a close, caring family even though it was very large. When my sister was very small, my mom started having extremely painful bouts with her low back. It would come and go. While it was there, she was in such excruciating pain that she could hardly walk. She still tried to brave it and go to our outings but everyone could tell she was in pain. It was especially hard on her having to watch and care for two young children.
Eventually my mom became almost despondent from the pain. She had tried magnets, shots and back braces. Her pain was with her all the time at this point. She was so desperate she was even contemplating taking pain pills, which she really didn't believe in at all. My worst fear was that it would get so bad my mom would never be able to get out of bed again. I felt so helpless. I adored my mom. She was so vibrant and brave, always full of love and life. Now, though, she was reduced to tears almost all the time. That was when I vowed in my heart I was going into the healthcare profession. The only choice anyone knew about was either a doctor or a nurse. So I created the dream of becoming a doctor so I could bring my mom back to our family the way she used to be. Healed of all pain and rid of whatever was causing it.
Years passed by and I never lost sight of that dream.
The day I discovered chiropractic care we had just come from taking my mom to a neurologist. She was told she had to quit her job and stay in bed all the time. My worst fear had come to pass. However, on the way home, my mom saw a new chiropractic clinic and said for us to stop. "Maybe he can help me" she had said, willing to try anything. She knew with the active and demanding lives of her husband and children, and needing the income of her beauty business there was no way she could lay in bed. She was willing to try anything.
We all fell in love with Dr. Dan Therron. Not only did my mother get some relief after the first day but continually got better and better from there. Not only had my eyes been opened but my heart was filled with joy. I was getting my mom back. I followed Dr. Dan and watched him every minute I could and realized the kind of doctor I wanted to be. Within a week I was enrolled in school and on my way to fulfilling my dream.
Now that I'm in practice and helping people every day, I know I have fulfilled my dream. My mom and dad always told me, "Once you achieve a goal you must make another in order to have a happy and full life." So now my dream is to help as many as possible achieve a better quality of life, whether it is to get them out of pain or rid them of whatever problems they may have, be it sinus, digestion, migraines or allergies. I've had success with so many different ailments.
When people aren't feeling well, either for a short time or especially after a very long period of time, they aren't themselves. Their worst fears loom larger than life before them. They lose sight of their goals, their dreams, even themselves.
As well as Chiropractic Care, we offer Massage Therapy, Acupuncture and Trigger Point Injections
There's no denying the power of bodywork.
Regardless of the adjectives we assign to it (pampering, rejuvenating, therapeutic) or the reasons we seek it out (a luxurious treat, stress relief, pain management), massage therapy can be a powerful ally in your healthcare regimen.
Call 770-834-6669 for a free initial consultation.
The pain stops here. Let our family take care of yours.